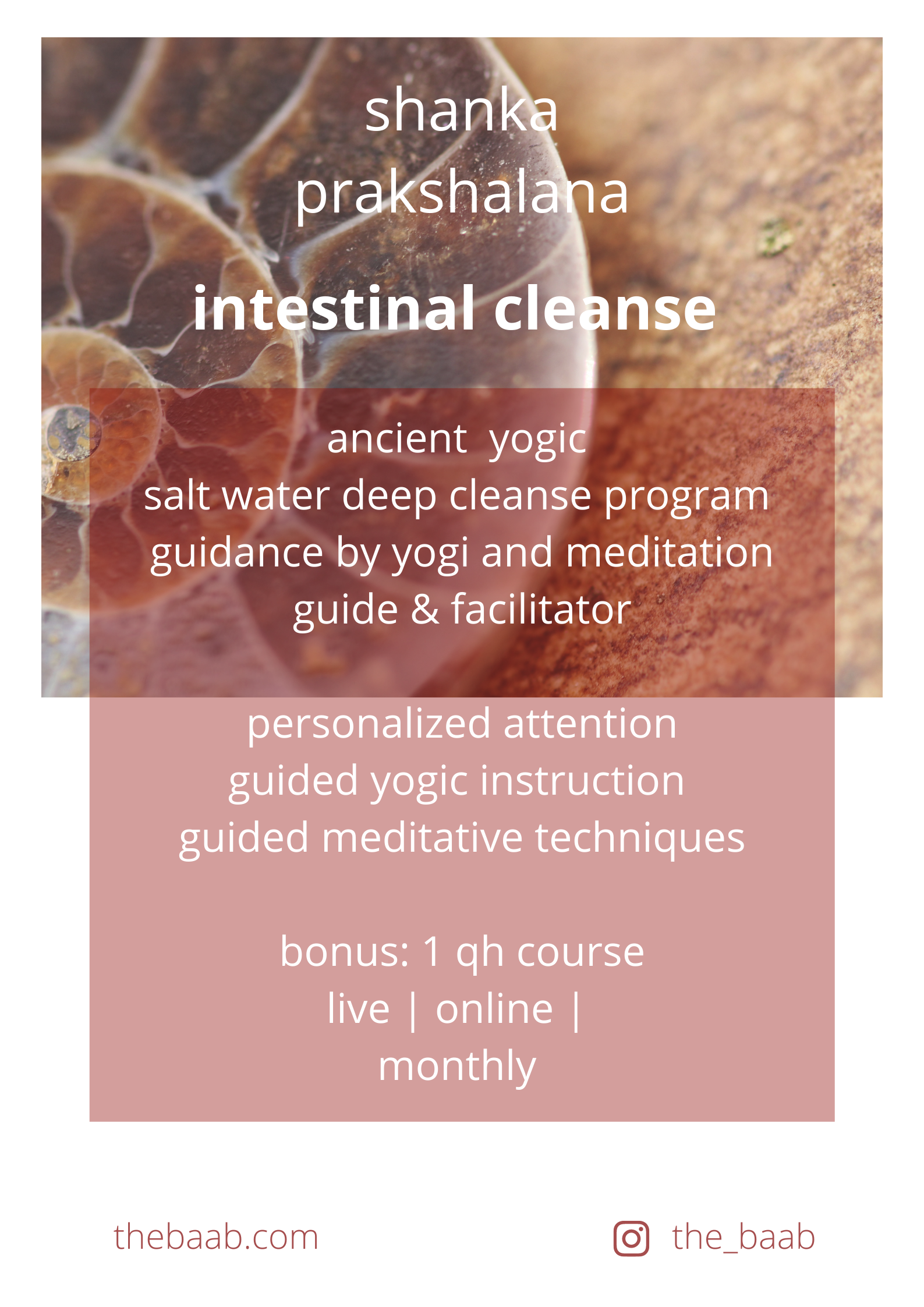 Shanka Prakshalana is an ancient yogic practice involving the drinking of saline water coupled with specific yoga asanas. The process involves the saline water to pass through the entire digestive tract removing impurities and releasing tensions, rendering the body to be supple and light. 
In alignment to frequency and how it impacts the quality of life, we believe in the body as the greatest trust. A healthy body is directly connected to a healthy mind and essentially a healthy soul. A body that is cared for with utmost attention impacts the health of the mind and soul. An imbalance in either or all, determines the overall health of mind-body-spirit and shows up as dis-ease, emotional disharmony and spiritual dis-ease. 
"All disease begins in the gut" - Hippocrates
When waste remains for years within our intestines, we are essentially carrying waste and excess and this translates to carrying heavy energy within ourselves. Based on the universal laws of energy and frequency, you manifest not what you want, but what you are. If you are a positive force of high vibrational frequencies then you attract high frequency energy into your life. However if you resonate at a low vibrational frequency then you attract stress, depression, anger and negativity. 
Cleaning and clearing our system (digestive tract) through our SHANK guided program, is equivalent to clearing our energy. This in turn alters our frequency which in effect creates tangible desired results of a clear mind directed by higher frequencies such as clarity, balance, self awareness and love. Remember, we attract what we are. This program is designed for those who want to stay in a high frequency and maintain the frequency so to experience a life of inner and outer resonance.
The Shank Monthly Program Includes 
Live guidance via group zoom 
Dietary instructions and guidance
Shank Exercises
Shank e-book
Follow up Q and A via private members Shank support group
Frequently Asked Questions
Can I get a refund if I'm unhappy with my purchase?
If you are unsatisfied with your coaching, reach out to us to see if your purchase is eligible for a refund.


Can I purchase coaching more than once?
Absolutely! If you find yourself in need of coaching more than once, simply purchase the coaching again.